Part 1
What is a patent and what does it cover?
A patent is a legal title that can be granted for any invention having a technical character provided that it is i) new, ii) involves an 'inventive step,' and iii) is capable of industrial application. A patent can cover how things work, what they do, what they are made of, and how they are made. A patent gives the owner the right to prevent others from making, using, or selling the invention without permission. Patents encourage companies to make the necessary investment for innovation and provide the incentive for individuals and companies to devote resources to research and development. Patents also imply the disclosure of the protected invention through granting the patents, which fosters the dissemination of innovation.
Patent applications vs. awarded patents
When searching the patent literature, we should distinguish between patent applications and awarded patents. There is a huge and essential difference between both. The Intellectual Properties Authorities first review a patent application (in individual states or regionally, like EPO- European Patent Office). Then the application will be advanced or not to the patent. Patents rights origination from the awarded patent only! The knowledge revealed in the patent application is always free of protection and can be used by everyone.
Can a patent protect cannabidiol (CBD)?
There is an obvious answer: No, as it is not new, it originates from nature, and it has been known already since 1940! However, if a unique, inventive, and industrially applicable method of CBD extraction is discovered, then this process of CBD extraction might be protected! The same would be valued when a new chemical synthesis of CBD is discovered. In such a case, the synthesis might only be covered by the patent, not CBD as a chemical entity.
EU vs. the US
There is currently a significant divergence in practice between Europe and the United States when considering the patentability of naturally-occurring compounds. Since the "Myriad decision" of the US Supreme Court (2013), the USPTO (the United States Patent and Trademark Office) has started to reject claims directed at naturally-occurring products. In the European Patent Office (EPO), such objections do not generally arise. The EPO's position is that merely finding a previously unrecognized substance occurring in nature is an unpatentable discovery. However, if that substance can be shown to produce a technical effect, i.e., pharmacological effect, then the naturally-occurring substance may be patentable.
In 2018, the cannabis market was estimated at 13.4 billion USD and is expected to reach 66.3 billion USD by 2025. As the increasing cannabis demand and economic and financial impact are contemplated, the importance of intellectual property rights (IPR) in this industry comes into focus. In this blog, the essential IPR instruments used in the cannabis industry are presented and accompanied by some data.
The World Trade Organization (WTO), founded in 1995, is a body regulating trade between nations and has enacted the Agreement on Trade-Related Aspects of Intellectual Property Rights (TRIPS). The TRIPS agreement provides benchmark standards for many intellectual property rights (IPR) types. Intellectual property (IP) consists of patents, trade secrets, copyrights, know-how, franchises, and trademarks. IPRs are regarded as the transmission gear at the nexus of innovation, business, and law.
The types of IPR most relevant to cannabis are the following:
Patents  
A patent is a type of intellectual property that gives its owner the legal right to exclude others from making, using, or selling an invention for a limited period (up to 20 years with occasional judicial exceptions) in exchange for publishing an enabling disclosure of the invention. In most countries, patent rights fall under private law, and the patent holder must sue someone infringing the patent to enforce their rights.
Patents are an intellectual property right granted by a state within its territory to the patent owner(s), excluding others from commercializing a technology recognized as novel and inventive claimed in the granted patent for a given time. It is defined as the commercial use, offer to use, sale, an offer of sale, manufacture, or distribution of patented technology or its products.
Plant breeders' rights
IP instruments, known as Plant Variety Protection Rights (PVPR) or plant breeder's rights (PBR), are intellectual property rights employed to protect the commercialization of new varieties of cannabis plants developed by traditional breeding. A new cannabis variety unique in morphological characteristics may be covered using this IP instrument in most countries. To be eligible for a PBR, the new variety must be clearly distinguishable from any other commonly known variety and be sufficiently uniform and stable under cultivation.
An additional IPR protection for plant varieties, unique to the USA and termed a plant patent, exists. Plant patents extend the owner's control and protection to asexual reproduction of a distinct and new variety of plant that expresses characteristics determined by its genotype. In addition, plant patents can be granted for mutants, hybrids or transformed plants.
Innovation in Cannabis
Cannabis innovation encompasses multiple activities from plant to product (drug, cosmetics, food ). Therefore, it is unsurprising that the relevant IPR instruments and policies are quite complex, varied, and heterogenous, both regionally and nationally. Considering IPR is relevant to innovations in cannabis along the entire supply chain from upstream agritech (improved strains, genetic modification, plant material assessment, harvesting technology, and post-harvesting processing), midstream chemistry/analytics (extractions, purification methods, and separation methods), and downstream medical/food/cosmetics (diseases, medical devices, compositions, formulations, and dosage forms).
Upstream technologies are an important differentiator from traditional IP domains as these technologies are centered upon agricultural innovation. Before a cannabis product can be produced or even investigated as an ingredient in a final product (e.g., medical), strains must be selected, followed by the development and implementation of efficient cultivation methods. Companies that can repeatedly deliver high-quality harvests of appropriate plants with predictable yields and cannabinoid content will be at an advantage and protect their beneficial applied research utilizing registered IPRs, namely plant breeders rights, plant patents, and utility patents.
Data obtained by the PatSnap search engine (https://www.patsnap.com/) using broad keywords, approximately 2000 patent families directed to various cannabis technologies were found. The patent family filing rate rose 6-fold, from about 60 filings in 2013 to 380 filings as of June 2020. The filings are concentrated in the USA (26.25%), Europe (12.26%), Canada (10.25%), and Australia (7.20%), with the remainder filed in other territories.
The Community Plant Variety Office (CPVO) database, which includes the global figures, revealed 434 Cannabis sativa varieties applications. PBR filed in the European Union are the most numerous (48%), followed by Australia (8%), Russia (7%), and Canada (5.7%). On the other hand, the USA only has four listings, all approved in 2019. This is probably because, in the USA, it is only since 2019 that plant variety protection certificates under the International Union for the Protection of New Varieties of Plants (UPOV) are obtainable for new and distinct Cannabis sativa varieties with THC content not exceeding 0.3%.
An interesting finding is a large amount of patent data on »ex planta and in planta« genetic modification technologies, including the production of cannabinoids from microorganisms, suspended plant cells, and recombinant DNA technologies (genetic modification, expression of new genes, gene silencing, gene editing, new trait selection methods, and novel breeding processes). As more cannabis products of genetically manipulated origin become available in the future, it is likely to influence the perception of cannabis in some circles as a natural herbal product.
Part 2
Patenting of technology
The major patenting activity in the midstream technologies is still in natural product technology, namely extraction of cannabinoids, terpenes, and flavonoids, as well as purification, separation, and preservation methods. The challenge here is to provide easily scalable extraction methods with a high yield of the desired compounds, chiefly CBD non-psychotropic ingredients. In addition, another potential medically valuable compounds, referred to as "entourage" compounds, are present in low concentrations in the natural state and require the development of meticulous extraction, separation, and purification techniques.
Patented extraction methods
Several extraction methods are being patented, including ultrasonic disruption, electroporation, and organic solvent extractions. However, since 2013, the patent activity has been mainly dominated by supercritical gas extraction methods. GW Pharmaceuticals, a market leader in medical cannabis technologies, holds several patents in this latter technology.
Cannabis extractions obtained from midstream technologies are formed into compositions, formulations, and compounds for which patent protection is sought regarding treating several medical conditions, and currently less in cosmetics and dietary supplements areas. Medical indications have been associated with treatments and include Alzheimer's disease; appetite loss; cancer; Crohn's disease; celiac disease; eating disorders such as anorexia and bulimia nervosa; epilepsy; glaucoma; mental health conditions such as anxiety, schizophrenia, and posttraumatic stress disorder; multiple sclerosis; Parkinson's disease; tremor; muscle spasms; tooth decay or dental caries; nausea and vomiting caused by chemotherapy; pain; burns; psoriasis; cachexia; and inflammation.
In industries driven by innovations, it is crucial to continuously construct and defend a patent portfolio proportionate to the core proprietary technologies upon which their commercial well-being depends. In addition, the company patent portfolio should also include technologies that may be considered by their competitors to exclude them from the market, at least for some time.
Companies with hemp-related patents
According to the data obtained from PatSnap, among the top 10 patent assigned GW Pharmaceuticals and its subsidiary GW
Research Ltd (the UK, with about 80 patents ) is the strongest. They are followed by China s Hanyi Bio-Tech (around 27 patents) and Israeli Yissum Research (about 12). All other companies have less than ten patents each. Slovenian Company PharmaHemp is a leading regional manufacturer of cannabis and from its prepared products, mainly cosmetics at the moment. However, with the future strong MD and drug products orientation and plans, has currently one SI patent application.
The trend for patenting in cannabis products
An apparent trend in the patent literature is related to cannabis products' modes of delivery. Various delivery modes are used and patented to administer cannabinoid formulations and compositions to the patient, such as transdermal, topical, oral, buccal, sublingual, rectal, and via inhalation. Cannabis can be in edible form, capsules, tablets, pills, ampoules, oils, waxes, liposomes, particles, suspensions, cartridges, droppers, micelles, pastes, and more and are intended for the treatment of various medical conditions in humans and animals.
It is worth noting that the data in the downstream medical cannabis domain shows that most of the key cited patents have expired. Therefore, while expired patents do not restrict freedom to operate, they hamper patentability due to prior art issues (novelty or inventiveness). Anyway, these findings are now free of protection and can be used by anyone on the globe.
There has been little litigation concerning patent infringement, but this trend will likely change very soon. Patented CRISPR technology (technology that can be used to edit genes and, as such, will definitely change the world!) is increasingly used to edit plant genes without inserting foreign genetic material. Patents for gene editing in plants are an established feature of the plant innovation landscape. These gene editing patents often cover a wide variety of plants, including cannabis. It is expected that this technology will considerably impact plant breeding, and therefore cannabis will not be an exception.
Patent litigations conflicts
It is clear from the searched patent data that much of the patenting activity has been focused on the downstream product segment. It is therefore expected that in this segment, the first patent litigation conflicts have arisen. These litigations signal to the cannabis researchers and manufacturers that patent holders are willing to prevent competitors from utilizing patented technology without the patent holder's consent.
The most notable cases so far are the GW Pharmaceuticals case litigated in the United States Patent and Trademark Office (USPTO) and the United Cannabis Corporation Case, which was litigated at the United States District Court for the District of Colorado. Up to today, there are no such cases in the EU. However, it is expected they will be present in the near future.
In the first case, the US patent »Use of one or a combination of phytocannabinoids in the treatment of epilepsy« (US9066920B2) belonging to GW Pharmaceuticals (UK) was subject to a patentability challenge by INSYS Therapeutics (USA). This patent protects GW's FDA-approved Epidiolex (CBD) for epilepsy (FDA approval 2018, EMA approval 2019). The grounds for invalidation asserted by INSYS before the USPTO Patent Trial were essentially obviousness. INSYS complained that previous publications provided sufficient guidance to an expert in the field to obtain the claimed invention, namely that CBD of plant origin of a given dosage is effective against certain types of epilepsy and that this was too obvious to deserve patent protection.
However, the USPTO found the essence of the patent to be sound and therefore did not confirm the INSYS interpretation.
We can understand this case as demonstrating the importance of obtaining patent protection as a part of an overall business strategy. Although GW pharmaceuticals took years to obtain the patent, it will be valid until the end of 2029, providing GW with monopoly rights.
In 2018 United Cannabis Corporation (UCC) filed a patent infringement lawsuit against Pure Hemp Collective, Incorporated (USA) in the United States District Court of Colorado. In the lawsuit, UCC asserted that Pure Hemp had infringed US Patent 9,730,911 entitled "Cannabis Extracts and Methods of Preparing and Using Same.
The' 91' patent claims cover various cannabinol formulations using ingredients commonly utilized in the cannabis industry that include tetrahydrocannabinol (THC), cannabidiol (CBD), and various terpenes.
This lawsuit is significant, and this case could have the potential to obstacle the cannabis industry because of the large number of companies creating products that contain many of the ingredients specified in the '911 patent. In addition, the '911 patent contains a broad claim scope that made it a patent ripe for licensing opportunities from others operating in this space.
The '911 patent is namely directed to liquid cannabinoid formulations. Accordingly, claims 10, 20, 25, and 31 recite the following:
A liquid cannabinoid formulation, wherein at least 95% of the total cannabinoids is cannabidiol (CBD).
A liquid cannabinoid formulation, wherein at least 95% of the total cannabinoids are THC [tetrahydrocannabinol] and CBD.
A liquid cannabinoid formulation, wherein at least 95% of the total cannabinoids are CBD, cannabinol (CBN), and THC.
The formulation of any one of the proceeding claims, wherein the formulation is infused in a medium chain triglyceride (MCT).
Pure Hemp counterclaimed that UCC's formulations described in the '911 patent were not patentable because they were commonly known in the industry. However, during the middle of the lawsuit, UCC filed for bankruptcy. The bankruptcy filing automatically stayed the pending patent lawsuit, effectively pausing the progression of the suit. However, in the bankruptcy filing, UCC claimed that it still intended to move forward with the patent infringement suit. The Court ultimately ended up closing the action. However, the parties may reopen the case when UCC's bankruptcy proceedings are completed.
It is hoped that this '911 patent will be successfully annulated and that in the future, no such "obvious" application will not be granted neither in the USA and EU. Such patents might affect the industry's market flow and development in the long run.
In the litigation against GW Pharmaceuticals the Canadian cannabis company Canopy Growth has filed a lawsuit alleging patent infringement. The lawsuit alleges that GW Pharma's anti-seizure drug, Epidiolex, is produced using Canopy's patented extraction process. The case relates to GW Pharma's "continued, unauthorized use" of Canopy's patented processes for extracting CBD from cannabis plant material.
According to Canopy, US Patent No. 10,870,632 was legally issued by the United States Patent and Trademark Office to the company in December 2020. Canopy Growth said that GW Pharma manufactures the active pharmaceutical ingredient for Epidiolex, CBD, using the CO2-based extraction process described and claimed in the '632 patent. Canopy Growth was seeking damages to compensate for GW Pharma's patent infringement. However, in March 2022, Texas federal judge discarded Canopy Growth Corp.'s claims against GW Pharmaceuticals PLC units for allegedly infringing its patented extraction process.
The patent activity of cannabinoids in the past decade
The patent filing activity of cannabinoids in the period from 2009-2019 is seen in Fig. 1. It is evident that the cannabinoids used for medical purposes represent the majority of patent applications. Cannabis is also starting to prevail in the cosmetics industry. Cannabis-based cosmetics products are for skin care, particularly for providing anti-inflammation and anti-oxidant effects, additionally for comforting experience.
However, after deregulation, researchers have been finding more and more uses for cannabinoids in product lines of different sectors such as vapes, beverages, and edibles in the USA. However, in the EU, cannabidiol has a novel food status, and EFSA's scientists so far have not established the safety of cannabidiol (CBD) due to data gaps and uncertainties about potential hazards related to its intake.
Conclusion
It is important to note that IPR data is distributed along the entire cannabis supply chain, following the upstream– midstream–downstream paradigm. Although IPR (primarily patents) in the upstream and midstream technologies are not as numerous as in downstream, approximately ten-fold more patents have been filed in the therapeutic sector. However, medical and other cannabis products cannot be successfully and efficiently generated without full knowledge and development of upstream–midstream processes required to characterize and consistently the downstream products, like drugs. This may well explain why a large group of patent families encompassing various medical indications, only a few cannabis-derived drugs, Epidiolex, Sativex, and synthetic THC and THC similar compounds, have received FDA and EMA marketing approval. The broad implications for downstream research are that upstream and midstream research must be supported, and the number, quality, and depth of clinical trials should be increased.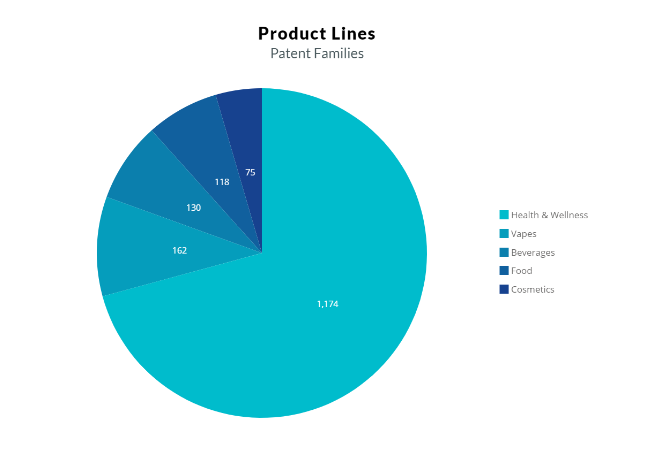 Fig. 1. ( From literature 4 )
Literature